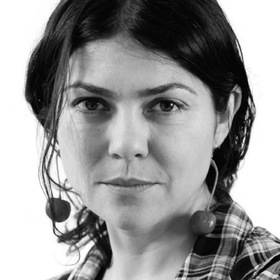 Julieta Aranda (Mexico City, Mexico, 1975) lives and works in Berlin and New York. She earned a Bachelor of Fine Arts at the School of Visual Arts (2001), and a Master of Fine Arts from Columbia University School of the Arts (2006), both in New York. Aranda's work is focused on the aesthetic potential of the role played by circulation. Not being media-specific, she manipulates existing circulation formats, in an effort to generate viable propositions for alternative transactions of cultural capital. These explorations have taken several forms, including printed media, installation, video and the creation of alternative spaces in order to explore concepts such as power, politics, reciprocity, systems of popular culture and the production of cultural expectations.
Her work has been exhibited in solo exhibitions around the globe, including most recently Videoart at midnight, Babylon Mitte, Berlin, Germany (2014); Attention Economy, Kunsthalle Museumsquartier, Vienna, Austria (2014); Where's The Smoke, Francesco Pantaleone Arte Contemporanea, Palermo, Italy (2013); If a body meet a body, Museo d'Arte Contemporanea, Villa Croce, Genoa, Italy (2013); 尸Γσ₠§§㏌⅁, Goethe-Institut Library, New York, NY (2013); Between Timid and Timbuktu, Galería Marilia Razuk, São Paulo, Brazil (2012); In Search of Lost Time, Galería OMR, Mexico City, Mexico (2011); among many others.
Aranda's work has been selected for several international biennials including the 54th Venice Biennale in 2011 and is included in important museum collections such as: The Solomon R. Guggenheim Founding Collection, New York, USA; MUSAC – Museo de Arte Contemporáneo de Castilla y León, Spain; Fundación/Colección Jumex, Mexico City, Mexico; CIFO – Cisneros Fontanals Art Foundation, Miami, USA.